Location : Home> Flute Lamination Machines
Flute Lamination Machines
Flute Lamination Machines
STMT-W Semi-Automatic Multi-ply Flute Laminator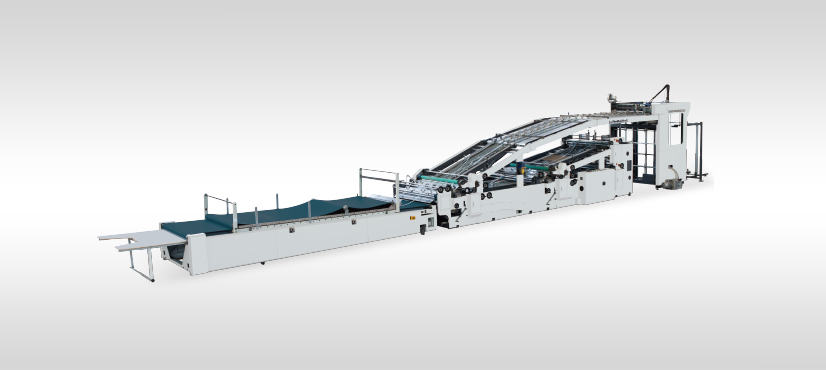 Performance of the machine
●STMT-W Series automatic flute laminator could do three in one lamination and also could do the lamination of single layer with cardboard paper. The machine is composed by top paper feeding unit,top paper transferring unit, top paper positioning unit,upper and lower bottom paper feeding unit, upper and lower bottom paper positioning unit, harmonic gear, two gluing system and press-conveyor unit.
●The feeding unit enables top paper move into delivery roller smoothly. The movement of top paper mainly depends on the belt with the top pressure wheels to ensure paper feeding successfully.
●The side lay positioning system for top paper ensures the transfer accuracy before lamination.
●The bottom paper feeding unit mainly depends on suction belt to make the corrugated paper go into bottom paper positioning unit smoothly.
●In bottom paper positioning unit, when the pusher push paper ahead, it also assures the bottom paper feeding accuracy.
●The gluing system supplies glue on the bottom paper to ensure the lamination of top paper and bottom paper.
●The conveyor unit presses the top paper and bottom paper after gluing to get a good lamination.

Specifications
| | |
| --- | --- |
| Model | STMT-1300W |
| Max Paper size | 1300×1100mm |
| Min Paper size | 450×450mm |
| Max weight for top paper | 800g/m2² |
| Min weight for top paper | 180g/m2² |
| Max weight for bottom paper  | 800g/m2² |
| Min weight for bottom paper  | 300g/m2² |
| The Max. thickness of bottom paper | 8mm |
| The Max. thickness of laminated paper(top paper + bottom paper) | 10mm |
| Maximum speed | 6000sheets/hour |
| Total power | 19.7KW |
| Dimension  | 18560×2100×2600mm |
| | |
| --- | --- |
| Model | STMT-1450W |
| Max Paper size | 1450×1100mm |
| Min Paper size | 450×450mm |
| Max weight for top paper | 800g/m2² |
| Min weight for top paper | 180g/m2² |
| Max weight for bottom paper  | 800g/m2² |
| Min weight for bottom paper  | 300g/m2² |
| The Max. thickness of bottom paper | 8mm |
| The Max. thickness of laminated paper(top paper + bottom paper) | 10mm |
| Maximum speed | 6000sheets/hour |
| Total power | 19.7KW |
| Dimension  | 18560×2250×2600mm |
| | |
| --- | --- |
| Model | STMT-1450W |
| Max Paper size | 1450×1100mm |
| Min Paper size | 450×450mm |
| Max weight for top paper | 800g/m2² |
| Min weight for top paper | 180g/m2² |
| Max weight for bottom paper  | 800g/m2² |
| Min weight for bottom paper  | 300g/m2² |
| The Max. thickness of bottom paper | 8mm |
| The Max. thickness of laminated paper(top paper + bottom paper) | 10mm |
| Maximum speed | 6000sheets/hour |
| Total power | 19.7KW |
| Dimension  | 18560×2250×2600mm |
Video