Location : Home> Film Lamination Machine
Film Lamination Machine
FMY-E Automatic Thermal Film Laminator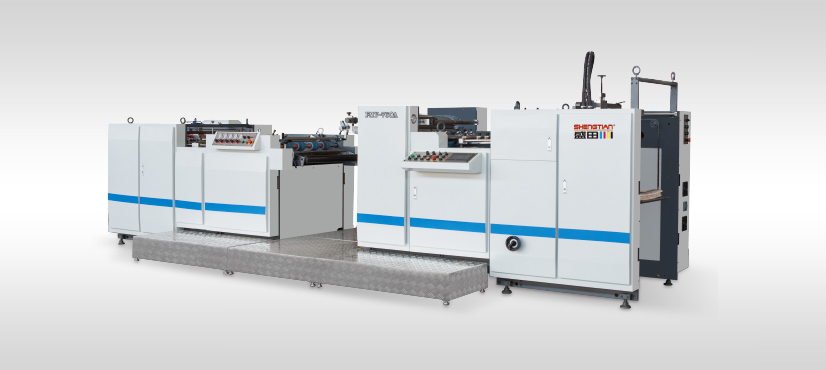 Performance of the machine
01、This machine is made by our company according to the needs of the market and through the analysis of the same type of machine in the market as well as the manufacturer and printing techniques. It is a small size thermal film laminator specially designed for hangtags and digital printing products with the features of compact, easy to operate and less occupied area.
02、The machine adopts circling water (or oil) heating system. The high quality steel roller with special inner spiral design and heat recycling system (patented structure) coordinated with precised processing techniques makes the roller fast in temperature rising and higher heat efficiency under high speed running which also makes a fast melting of the pre-coated glue and ensures a firm and bright film to paper lamination as well as reaches energy saving and high efficiency effect.
03、The rubber roller adopts high quality polyester rubber with the feature of high temperature and wear resistance. The hydraulic pressure system can provide automatic pressure supply, constant pressure keeping and pressure unloading according to the need of the machine which extend the life span of the rubber roller.
04、Automatic feeding system is equipped with a small feeder for smooth paper feeding, the maximum speed can be more than 10000sheets/hour. High speed separator is equipped with paper curl elimination device to ensure the separation with no curling. It adopts servo separating in fixed length with fast speed, high sensitivity and good stability.
05、Auto-sheeting platform at delivery part which can rise up and down automatically with sheet counting functions.
06、The machine adopts whole wall structure processed by CNC lathe. All the rollers are balance tested. All above these together with the tight assembling technique, high quality material makes the machine to run stable at high speed and durable.
07、All the electric parts are all well-known brand in domestic and abroad- high reliability and trouble free. Practice and precise servo motor and its system plus side-lay puller and touch screen makes the adjustment and operation easy with good precision (±2 mm).

Specifications
| | |
| --- | --- |
| Model | FMY-760E |
| Max. sheet size | 760*760mm |
| Min. sheet size | 300*240mm |
| Max. machine speed | 108m/min |
| Sheet weight | 128 -450g/m2 |
| Installed power | 40KVA |
| Power consumption | 15kwh |
| Air source pressure | 0.6MPa |
| Machine weight | 4100KG |
| Overall dimensions | 7220*1800*1840mm |
| | |
| --- | --- |
| Model | FM(C)Y-1100D |
| Max. sheet size | 1100×1200mm |
| Min. sheet size | 350×350mm |
| Max. machine speed | 109m/min |
| Sheet weight | 128-450g/m2 |
| Installed power | 38KW |
| Power consumption | 16KWh |
| Dimension (L×W×H) | 11300×2650×2780mm |
| Total weight | 6300kg |
| | |
| --- | --- |
| Model | FMY-920E |
| Max. sheet size | 920*1050mm |
| Min. sheet size | 300*300mm |
| Max. machine speed | 108m/min |
| Sheet weight | 128 -450g/m2 |
| Installed power | 42KVA |
| Power consumption | 16kwh |
| Air source pressure | 0.6MPa |
| Machine weight | 6230KG |
| Overall dimensions | 10500*2000*1950mm |