Location : Home> Film Lamination Machine
Film Lamination Machine
SGF-1100C Automatic Drying type Water-based and Thermal Film Laminator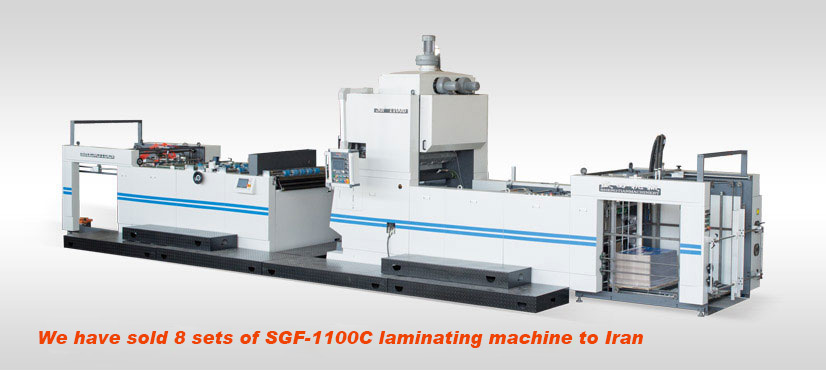 Performance of the machine
01、The machine adopts circling oil heating system equipped with big diameter of drying roller and heat recycling system which enhances the heat efficiency. Compared with the same type of machine in China. it can save energy up to 20% .
02、High quality steel roller with specially designed inner part for water heating and circulation together with heating recycling system and precise processing techniques makes the roller fast in temperature rising and higher heat efficiency under high speed running.
03、The rubber roller adopts high quality polyester rubber with the feature of good elasticity, high temperature and wear resistance. The hydraulic pressure station can provide automatic pressure supply, pressure keeping and pressure unloading according to the need of the machine. When there is a power break down, the rubber roller can automatically separate with the thermal roller to protect it and extend the life span of the rubber roller as well as ensuring a firm and bright film to paper lamination.
04、In gluing part, it adopts ceramic anilox roller and doctor blade mode. The doctor blade is specially design and made which makes the glue coating less and even to save glue consumption. Coordinated with the pneumatic auto glue system. the gluing part can ensure a continuous production.
05、High speed feeder with subpiling or prepiling system makes the machine change the paper pile without stopping the machine which greatly enhances the production efficiency.
06、Practice and precise servo motor and its system plus side-lay puller and touch screen makes the adjustment and operationeasy with good precision (±2mm).
07、The separation part adopts servo motor and chain knife and equipped with paper curl elimination device to ensure a good separation -no double sheet and no curling.
08、Auto-sheeting platform at delivery part which can rise up and down automatically with sheet counting functions.
09、This machine can also be used for precoated film with fast lamination speed and good quality of lamination.
10、Customer can choose electrimagnetic heating system for heating,total power 110kw.
Specifications
| | |
| --- | --- |
| Model | SGF-1100C |
| Lamination speed for water-based glue | 9-70 m/min |
| Lamination speed for thermal film | 9-89 m/min |
| Max. sheet size | 1100×1200mm |
| Min. sheet size | 350×350 mm |
| Max. speed | 89.5 m/min |
| Sheet weight | 128-450 g/m2 |
| Installed power | 95KW |
| Power consumption | 42KWh |
| Overall dimension | 14500×4200×2800mm |
| Total weight | 8800kg |
| | |
| --- | --- |
| Model | SGF-1100CL ( Long Type) |
| Lamination speed for water-based glue | 9-70 m/min |
| Lamination speed for thermal film | 9-89 m/min |
| Max. sheet size | 1100×1450mm |
| Min. sheet size | 350×350 mm |
| Max. speed | 89.5 m/min |
| Sheet weight | 128-450 g/m2 |
| Installed power | 95KW |
| Power consumption | 42KWh |
| Overall dimension | 15000×4200×2800mm |
| Total weight | 9000kg |